Compact, Affordable Flatbed Laminating Machines
Product Announcement from Glenro Inc.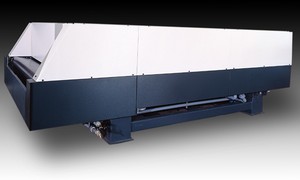 Flatbed lamination is a new method of lamination for roll goods and sheets that utilizes dry thermally activated adhesive systems that do not require long drying/curing tunnels to process. Instead, heat is quickly conducted through two opposing pressure-loaded belts into the laminate to heat activate the dry adhesive web, powder, or film layer without the release of any volatiles or smoke. It is the simultaneous application of heat and pressure activating the adhesive that makes flatbed lamination so successful in producing high performance bonding.
Glenro's flatbed laminating systems laminate a wide variety of materials such as fabric, nonwovens, metal foils, foams, composite panels and rigid products in a surprisingly small space.
Glenro offers standard machine models and custom designed machines for specialty products and processes.
Standard Machine Models
HPH High volume machine using Conductaplane™ heating technology
MPL Similar in design to the HPL, this machine is a smart choice for lower production requirements
Glenro provides engineering support and pilot line facilities to assist you in defining sensible performance criteria for your application. We can also integrate material handling equipment and some of our infrared heating technologies to uncover a complete and competitively superior process solution for your business.
We can help you source and qualify suitable dry adhesives for your product and its end use applications and produce sample product laminates in our ConLam™ Contract Manufacturing PilotTesting Facility.
Many clients use the facility to produce small volumes of product and to test market product before the purchase a new machine and process line can be cost justified.
We invite you to contact us to discuss your application further at www.glenro.com
---