Extruded Medical Tubing Heating Technologies
Product Announcement from Glenro Inc.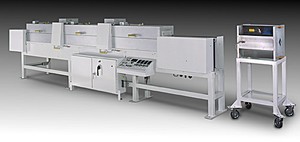 Glenro offers industry leading heating technologies for the manufacturing of extruded PTFE and silicone rubber medical tubing.
Silicone Rubber
Horizontal conveyorized systems and vertical systems are available to cure this type of extruded medical tubing. We understand the process and the need to establish some green strength quickly so as not to mark the surface or to accommodate the hanging weight of the tubing. Our designs are proven and guaranteed to perform.
PTFE Paste Drying
Independent infrared and hot air drying zones effectively dry the extruded paste and properly ventilate (exhaust) the Isopar vapors generated. Our approach eliminates the need for large "Vaporizers" that extend the tubing length and create excessively large volumes of exhaust air that must be controlled.
PTFE Sintering
The drying zone is isolated from the "sintering" zone so that a well controlled and "quiet" heated area can work to properly cure the tubing. Sizing and crystallization become more predicable and more controllable because our performance is so consistent in the machine direction given the zoning provided.
Tall vertical system designs experience lower convective losses or "chimney effect" because heated make up air is introduced to slow the in rush of cold infiltration air into the bottom of the tower; helping to create much higher operating efficiencies and much lower operating costs.
Integrated Energy Delivery® Systems
Glenro PTFE Medical Tubing Systems are considered integrated because they combine hot air with infrared energy to perform the work.
Glenro integrates and provides variable volume regenerative thermal oxidizers (RTO) to service our process heating towers.
Glenro PTFE Medical Tubing Systems integrate the latest PLC control technologies to coordinate the operation of the extruder with the process oven and with our pollution control technologies.
Glenro Inc.
39 McBride Ave.
Paterson, NJ 07501-1799
USA
Phone: 973-279-5900
Toll Free: 1-888-GLENRO-1
---