Radplane® Ceramic Face Electric Heaters
Product Announcement from Glenro Inc.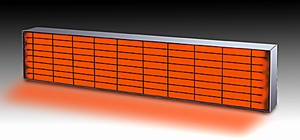 These heaters can be used in a variety of applications including, but not limited to preheating, drying, curing, and sintering. Ceramic face infrared heaters can be used in close-packed configurations for manufacturing processes that require uniform product heating over large heated areas; like preheating automotive carpet backing prior to molding.
What distinguishes one series of heaters from another is its overall thickness or amount of insulation behind the heating element and its maximum operating watt density.
Heater watt densities range from 500 Watts/ft2 to 2000 Watts/ft2. Standard heaters are available, ranging in size from 1' x 2' up to 1' x 6'.
This Radplane® family of heaters is an excellent alternative to low efficiency quartz tube, metal rod or sheath-type emitters.
---