Textiles - Heat Processing Solutions
Product Announcement from Glenro Inc.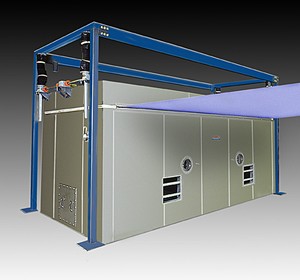 Glenro has a long and successful history of enhancing traditional and technical textile heat processing applications with its Proven Solutions®.
Whether the products involve carpet, apparel or other familiar fabrics to more specialized technical textiles for the automotive, medical, geotextile, argotextile, protective clothing, laminate or conveyor belting markets, Glenro has the resources and the experience to develop and support a process and equipment solution for your manufacturing business.
Dry
Stain resist sprayed coatings on automotive and upholstery fabrics
Ink jet printing on pile fabric
Latex back coatings
Selvage on tentered fabrics
Water, dyes, latex, resins, adhesives, inks, vinyl, silicone, acrylic, fluorocarbon, polyurethane, water repellent, flame retardant and other coatings on woven or nonwoven fabrics to increase line speeds
Predry
Latex back coatings on carpet, automotive fabric and upholstery fabric to increase speed and to set the latex to prevent it from adhering to drum dryers or steam cans
Dyes or chemical treatments prior to steam cans
Finishes on various style fabrics
Tubular knits prior to drum dryers, through-air dryers or tensionless conveyor dryers
Screen printed fabrics prior to curing ovens for speed increases
Flock adhesive to anchor flocking prior to hot air impingement ovens
Printed flocked fabrics
Foamed on or sprayed on topical finishes to increase line speeds and product quality
Saturated woven and nonwoven fabrics
Size on filament yarns prior to steam cans for slashing applications
Foamed latex back coatings on velour and upholstery fabrics
Selvage prior to, on and post tenter frames to reduce pick-off on clips and pins (reduces down time for cleaning)
Preheat
Auto carpet prior to extruded back coating
Auto carpet prior to molding
Auto fabric prior to lamination
Fabric and foam for powder bonded lamination
Postheat & Cure
Heatset polyester and other synthetic woven and knit fabrics
Cure transfer inks printed on fabrics
Sinter powder adhesives for fusible interlinings
Melt and Flow powder adhesives for auto fabrics (automotive soft trim, headliners, seats, side panels)
Post cure latex back coatings on upholstery and auto fabrics (improves quality by reducing face temperature)
Laminate fabric to fabric, foam, nonwovens, etc. with powder, film and web adhesives.
More info - http://www.glenro.com/textiles.html
---