Maintenance Meter w/Output lite
Product Announcement from Global Digital Instruments LLC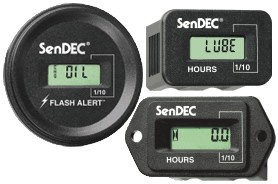 YOU CAN'T IGNORE THAT SERVICE LIGHT!!
Here is the ultimate Maintenance Monitor: SenDEC's top quality DC Hour meter (8V-32V input) with Flash Alerts™, along with a Service Lamp that lights when Service is Due! The lamp provided is an LED Lamp module that can be easily mounted anywhere on your equipment!

When service is due the meter's Flash Alert™ is activated and the Service lamp illuminates signaling that maintenance is required. After the maintenance is performed, a SenDEC reset wand is held near the meter to reset the Flash Alert. At this time, the LED Lamp will turn off and the meter will calculate the next Flash Alert maintenance interval. As always, the SenDEC meter itself will indicate what service is due by using it's traditional Flash Alert™ message on the meter LCD. The total accumulated running hours of the equipment are also displayed. Epoxy encapsulation protects these meters from shock and vibration and seals out the harshest environments. Installation is fast and easy.
---