New SenDEC 806-6xx Series Vibration Hour Meters
Product Announcement from Global Digital Instruments LLC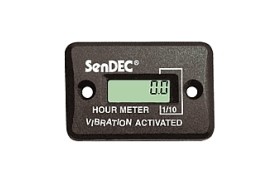 The new SenDEC 806-6xx Series is the easiest way to measure the run time of any equipment that vibrates during operation. No wires!
The meter is activated by vibration and accumulates hours as long as the equipment is vibrating.
These meters are also available with SenDEC Flash Alert™ that flashes required maintenance at preset intervals. The self-contained power source ensures continuous display of total run hours.
Epoxy encapsulation protects this meter and seals out the harshest environments.
Wireless installation is fast and easy.
Operation is fully automatic.
---