SenDEC Battery Fuel Gauges
Product Announcement from Global Digital Instruments LLC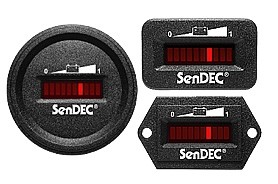 SenDEC Battery Fuel Gauges are designed to accurately monitor the charge capacity of lead acid batteries. SenDEC fuel gauges can be used to monitor DC powered equipment such as fork lifts, golf carts, floor care equipment, and any other battery powered equipment. Three battery discharge profiles are standard, plus custom profiles, and a lockout option.
Charge capacity is indicated using a high brightness, 10 segment LED bar graph display from full (right LED segment lit) to empty (bottom LED segment lit). LED Flash Alert™ flashes the 2nd LED from the left as a warning that the battery has discharged 70%. At 80% discharge, LED Flash Alert™ flashes the left 2 LEDs to indicate very low capacity is remaining.
**Other flash levels and discharge algorithms are available.
Features
Available in 12, 24, 36, and 48 volt DC ranges
10 segment LED Bar Graph display
Resolution: 10% per LED segment.
Current Draw: 3.2 mA LED Display off
15 mA with LED Display ON
Reverse Polarity Protected
0.187" faston tabs for easy hookup
LED enable input to save battery current
70% discharge indicated by the 2nd LED segment flashing
80% discharge indicated by the 2 left LED segments flashing
3 Discharge profiles available, plus Custom profiles
Power up to instant charge level, or traditional countdown
Memory option for last known level at power up
Overcharge protected (50% over nominal voltage)
Full charge indicated when the Top LED bar is lit (specified full charge voltage per cell is reached for a minimum of 6 minutes continuously).
---