Adjustable Height Gantry Cranes
Featured Product from Gorbel Inc.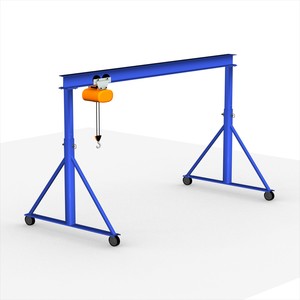 Adjustable height - in 2' - 3' increments.
Capacities from 1-5 tons
Spans up to 30'
6" diameter, Polyurethane casters with a steel core are standard
Polyurethane wheel
Bolted beam uprights
Pre-engineered for use with powered hoists
Can be moved to almost any location
Cost effective in areas of infrequent lifts
Fixed heights of 10', 12', 15', or 20' available
Capacities from 1 to 5 ton
Non-marking, 6" diameter durable polyurethane casters are standard and provide for easy movement
Polyurethane wheels roll smoothly even over rough floor surfaces, and can withstand water, oil, and most other chemicals
Bolted beam to upright ensures that beam does not dislodge
Pre-engineered for use with powered hoists
Lifting materials anywhere in a facility
Localized handling
Over machines for maintenance and pulling product
Anywhere lifting equipment is needed on an infrequent basis
Industry's Best Warranty - 5 years (casters - 1 year)

Industry's Best Delivery - 5-Day Shipments available for all manually operated cranes. 2- or 3- Day Premium Service also available.

Multiple Shipping Points - We have multiple manufacturing facilities, and we ship from the closest plant to lower your freight costs and reduce product damage

"If it's late, we pay the freight" - When delivery is critical, you can depend on Gorbel®. Upon request, we will guarantee your crane will be ready for shipment on the promised date or we pay the freight

Ease of Installation - We build and assemble all components with jigs and fixtures to ensure easy installation

Ease of Operation - This helps reduce operator injuries and increase your company's productivity
Local Representation - Gorbel® Cranes are sold and serviced through a network of experienced material handling specialists through North America, China, Korea, and Australia

Versatility - Gorbel® makes a complete line of jib cranes to meet your needs!

Safety - All cranes are pre-engineered for powered hoist operation - with a factor of 15% of the jib capacity for the combined weight of the hoist and trolley and an additional factor of 25% of the jib capacity for the impact of powered hoists.
Options for 1 to 3 ton:
Swivel casters with cam brake
Four position swivel locks with or without cam brake
Steel V-groove rigid body with or without cam brake
End stops
Fixed length v-groove track
Options for 5 ton:
Swivel casters with cam brake
Four position swivel locks with or without cam brake
End stops
Fixed length v-groove track
I-beam:

End support assembly:

Support weldment:

Caster base plate:
Can be moved to almost any location
Cost effective in areas of infrequent lifts
Adjustable heights available from 7'-10'; 10'-12'; 12'-15'; 15'-18'; 18'-20'
Capacities from 1 to 5 ton
Non-marking, 6" diameter durable polyurethane casters are standard and provide for easy movement
Polyurethane wheels roll smoothly even over rough floor surfaces, and can withstand water, oil, and most other chemicals
Bolted beam to upright ensures that beam does not dislodge
Pre-engineered for use with powered hoists