Ceiling Mounted Work Station Cranes
Featured Product from Gorbel Inc.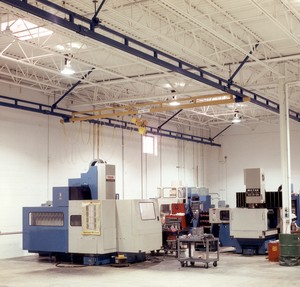 Need an alternative to manual lifting, but floor space in your work cell is limited? When a work area needs to be free from support structures that interfere with operations, choose a ceiling mounted bridge cranes and keep your floors clear. Gorbel ceiling mounted systems are pre-engineered and modularly designed for easy installation, expansion, and relocation. Customers can install multiple bridges along one set of runways and greatly increase their productivity.
Gorbel Ceiling Mounted Bridge Cranes are available in steel, aluminum, and stainless steel, with capacities from 250 lb. to 4000 lb., and spans up to 30 feet. They are easy to install, move, and position, plus their support steel doesn't interfere with the handling operation. Ceiling mounted cranes require buildings with adequate overhead structures. Cranes may be manufactured to meet your exact work area requirements.
Use For:
Applications with lighter loads (less than 4000 lbs.)
Parts Assembly
Machining
Palletizing loads
Injection Molding
Warehouse loading docks
Process Equipment Maintenance
Truck Service Centers