Q/iQ Easy Arm™ Intelligent Lifting Device
Featured Product from Gorbel Inc.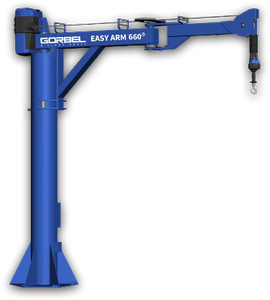 Gorbel's Q/iQ Easy Arm™ Intelligent Lifting Arm is an all-in-one turnkey lifting solution that combines the brains of our G-Force® Intelligent Lifting Device with the ease of an articulating jib crane. The Easy Arm™ pivots in two places for easy access to hard-to-reach places. It is available in 150, 330, adn 660 lb. capacities with speeds from 1 fpm to 180 fpm. Choose a Q unit, our feature packed base model, or our iQ unit, which offers the same speed and precision as the Q model but with additional Input/Output and added intelligence features.
The Q/iQ Easy Arm™ requires no special foundation for installation and puts no stress on your building's overhead structure. This all-in-one design is more cost effective for moving loads within one work cell than adding a work station bridge crane.
Easy to install and relocate: Its simple 4-bolt pattern makes it easy to install on any 6" reinforced concrete floor
Easy to move: The lifting mechanisms are located over the primary pivot point, making the arm lightweight
Features:
Available in 150, 330, and 660 lb. capacities
Unparalleled precision at speeds from less than 1 fpm up to 180 fpm
Moves as fast or slow as the operator chooses to move
Requires no foundation, just a 6" reinforced concrete floor
Easy to move virtually anywhere you want
Easy to install
Arm is lightweight and easy to move
Adjustable tension in both arms
Pivots in two places for easier access to hard-to-reach places
Use for:
Reaching into a work cell or around obstructions view video
Reaching under overhead obstructions like conveyors or exhaust hoods view video
Reaching into work cells/doorways view video
High cycle pick and place view video
Loading/unloading machined parts
Moving products throughout a work cell
Underhung Easy Arm™ is a great way to save valuable floor space. It may be mounted to the ceiling, or to a manipulator platform to service multiple work cells. An adequate overhead structure is required to resist the forces imposed by the system.
Easy to move: The lifting mechanisms are located over the primary pivot point, making the arm lightweight
Adjustable tension in both arms to fine tune performance

Play Q/iQ Easy Arm™ Intelligent Lifting Device Video on YouTube