Remain Current on Latest Trends
Featured Product from Gorbel Inc.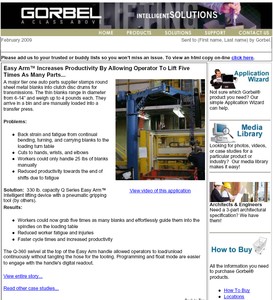 Subscribe to Gorbel's FREE Email newsletters, INSIDE TRACK and iNTELLIGENT SOLUTIONS, and learn how Gorbel overhead cranes and lifting devices can help your bottom line through increased productivity, fewer operator injuries, and decreased product damage. Additonnally, pertinent information on latest trends in fall protection are addressed.
What are we going to send you?

Inside Track (6 times a year) - Keep up with the latest ergonomic crane solutions and see how customers have applied Gorbel® Work Station Bridge Cranes and Jib Cranes to improve their productivity and safety. Featured in this newsletter will be:
Real world case studies highlighting solutions to productivity and safety issues
Tips and pointers you can use to develop your own cost effective material handling solution
News on the latest material handling products and programs to help your business
Intelligent Solutions (6 times a year) - Keep up with the latest developments in the world of Intelligent Assist Devices and see how customers have used G-Force® IAD technology to lower their costs and improve productivity. Featured in this newsletter will be:
Real world case studies highlighting solutions to productivity and safety issues
The latest G-Force®, Easy Arm™, and G-Jib™ product enhancements and new product developments
Ideas on how Intelligent Lifting Products can solve your handling problems