Dot Peen Marking
Featured Product from Gravotech, Inc.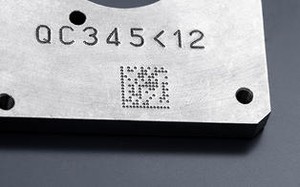 Technifor is the inventor of dot peen marking. Today the brand boasts 30 years of experience in this area making it the leading global manufacturer of dot peen (and scribing) machines.
What is dot peen technology?
The principle of dot peen technology is based on the creation of depressions in the material using a vibrating tool.
This creates a series of points (impacts) forming:
direct marking (on the part),
permanent and tamper-proof marking.
During dot peen marking, the material is pushed back and not burned, milled or more generally transformed like it is in other marking technologies. No shavings are produced meaning that the parts weigh exactly the same both before and after marking.
This also means that dot peen creates no breakage points in the material, regardless of the thickness of the part being marked.
The Technifor brand uses 2 dot peen technologies:
pneumatic
electromagnetic
This means it it suitable for all applications: from deep and fast marking on raw material to marking very precise Datamatrix codes on small machined surfaces.
Economical: very low acquisition cost and reduced cost of use due to no comsumables being required (unlike punch, roller, electrochemical or bubble jet marking)
Multipurpose: marking on all types of shapes and surfaces thanks to the 3D stylus and on materials with hardness up to 62HRC
Easy to use: WYSIWYG, you can see exactly what you are marking on the control unit's screen
Productivity: marking speed twice as fast as other dot peen marking machines on the market (pneumatic technology) for an equivalent marking quality
Efficient: the marking is fast and clear
Independent: no need for a computer to create the files or control the machine