LS1000XP: It Only Gets Better!
Featured Product from Gravotech, Inc.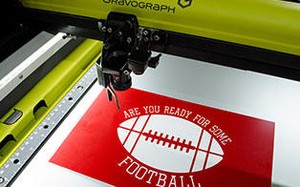 The LS1000XP is a true all around machine. The large 48" x 24" marking area and unlimited X & Y pass through creates a functional and adaptable environment. The standard flat works and floating pin slats, allow you multitask jobs in your laser and decrease your production time
With its outstanding speeds of 157 ips and marking area of 48" x 24" this laser outperforms the rest. The LaserStyleTM software solution allows cutting precisely printed shapes with no added expense of an optical recognition device. You can also cut printed media in four steps with the standard Print & Cut media registration.
The front-loading door and access drawers make moving bulky and large items easy. The machine stand raises the LS1000XP to a comfortable working level. The collection tray cradles cut pieces making clean up a breeze. The LS1000XP also offers IQ+ or "Intelligent Quotient". The IQ+ at Gravotech was specifically designed for Gravograph machines. Offering streamlined electronics, new-generation firmware and enhanced communication between the engraver and user.