Marking and Traceability Simplified
Featured Product from Gravotech, Inc.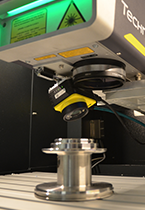 Add improving traceability of your tools, equipment, and inventory to your New Year's resolutions! Direct permanent marking ensures proper tracking of your parts at any stage of the production process and after you ship them to the end-user. Watch our free webinar to help you pick a perfect solution!
Key Take-Aways
Learn why manufacturers need to mark and identify their products.
Review various permanent marking equipment and solutions.
Understand the wide range of materials products are made from and what marking solutions best permanently mark those materials