Coated Whisker-Reinforced Ceramic Inserts
Product Announcement from Greenleaf Corporation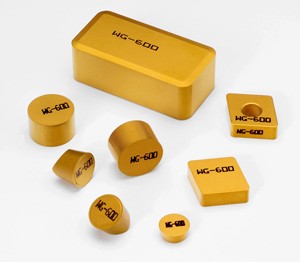 Greenleaf's WG-600® is ideal for the roughing and finishing of high-strength alloys and hardened steels. WG-600® is a coated Al2O3 whisker-reinforced ceramic that delivers better performance than uncoated whisker-reinforced ceramic inserts.
WG-600® is the first commercially available coated whisker-reinforced ceramic cutting tool. Greenleaf's advanced coating gives WG-600® the advantage of offering better tool life and better performance over the uncoated whiskered ceramics in most applications. WG-600® excels at machining high-strength alloy materials, hardened steels and other difficult-to-cut materials; and, it is particularly well-suited for demanding applications in which extended tool life is critical.
WG-600® can out-perform carbide and silicon nitride-based ceramics in heat-resistant alloys, hard steels, weld overlays and 400-series stainless steels. WG-600® has outstanding thermal and mechanical shock-resistance, making it the grade of choice for intermittent cut applications, such as milling. Grooving and turning applications can also benefit from using WG-600® by reducing cycle time and extending tool life.
WG-600® is available in all standard insert geometries and styles, as well as special geometries custom-designed for your unique need. Whether it's through dramatic reductions in cycle time, extended tool life, or both, WG-600® will help take your shop's productivity to new levels.
U.S. Patent No. 6,447,896 B1
---