Excelerator® XF High-Feed Cutters
Product Announcement from Greenleaf Corporation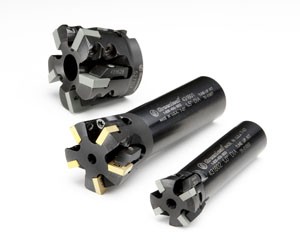 Greenleaf's Excelerator® XF cutters are designed for high-feed milling on a wide variety of materials including hard steels and high-temp alloys using Greenleaf's advanced ceramic and carbide inserts.
The cutter bodies have been designed with large chip gullets and a fine pitch to give you the most teeth possible for maximum performance and extreme metal removal rates. Cutter sizes range from 1" to 12".
All Excelerator® XF cutters can use Greenleaf's WG-300® and WG-600® whiskered ceramic inserts on hardened and difficult-to-machine materials or a variety of Greenleaf carbide grades for easier-to-cut materials. That gives you a versatility that no other high-feed cutter on the market can match.
---