Grooving, Profiling and Cut-Off Systems
Product Announcement from Greenleaf Corporation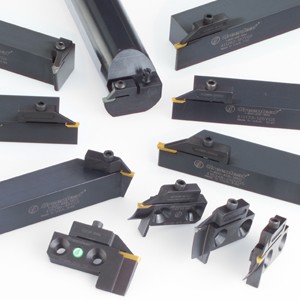 Greenleaf's toolholder system for grooving, profiling and cut-off applications is one of the most comprehensive in the industry and is designed to accept carbide or ceramic inserts. The system features a "V"-bottom pocket design for superior insert stability and precision cutting. An interchangeable support blade system includes Capto and KM quick-change shanks.

Greenleaf's Groove-Turn System (GTS) inserts offer high-speed performance in a chip form geometry specifically designed to allow the Greenleaf carbide grooving insert to double as a turning tool when the application dictates. GTS carbide inserts are qualified to fit into the same pocket as its standard ceramic groover counterpart.

Greenleaf's advanced Cut-Off System (COS) features inserts that are qualified to fit into standard Greenleaf grooving tools while maintaining superior performance.

The Greenleaf Powerlock® threading and grooving system of inserts, toolholders and bars offers carbide inserts that conform dimensionally to the industry-embraced notch-style system. Greenleaf's Powerlock® insert toolholders are precision manufactured to accept Greenleaf's carbide or ceramic Powerlock® grooving or threading inserts. Greenleaf expands on the traditional industry offering by making available a complete design-and-build service. Greenleaf engineering can deliver specific productivity needs not available with catalog-standard products.
---