Metalcutting Solutions for Gas Turbine Industry
Product Announcement from Greenleaf Corporation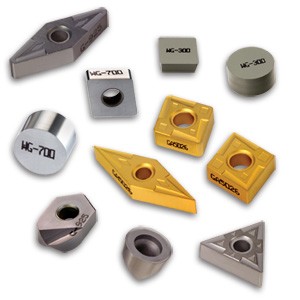 Standing on a 70-year history of excellence, Greenleaf Corporation continues to supply indexable cutting tools to a variety of industries, bringing increased productivity to the shop floor. Over the last several decades, our global reputation as the top company in gas turbine parts machining with advanced ceramic inserts continues to grow. Greenleaf's innovative, engineered solutions in tooling coupled with carbide grades and specific chipforms complement their advanced ceramic products in meeting the very demanding machining applications specific to aerospace.
High-temperature alloys are used in the aerospace industry to produce high-performance jet engine components. It is imperative that these components withstand high pressure, intense heat and temperature variations. Without continued development to create these aerospace alloys, air travel as we know it today might be virtually impossible.
As the materials continue to change in the aerospace environment, the cutting tool manufacturer of today must evolve their cutting tool grades to meet the productivity challenges that these new materials pose. Regardless of the materials being machined, the goals remain the same: efficiency, speed, tool life and greater productivity. Greenleaf's developments of WG-300®, WG-600® and WG-700™ whisker-reinforced ceramic inserts are unparalleled for machining high-strength alloy materials. They are also the first choice worldwide for complex turbine machining operations. Combining a very high degree of heat, wear and impact resistance, these grades continue to provide maximum predictable metal removal rates in high-strength alloy machining applications.
WG-300® is the world leader in providing the highest increase in productivity to the most critical component of the aerospace industry: the jet engine. Machining heat-resistant, high-strength alloy materials at a proven eight times the production rate of traditional carbide cutting tools, WG-300® is the reliable workhorse of the industry.
WG-600® is the first coated whisker-reinforced ceramic available commercially for use in production. Also a very predictable insert grade, WG-600® expands the speed envelope of WG-300® at the same feed rates, providing a new productivity range to the application. It is particularly well-suited to applications in which extended tool life is critical.
WG-700™ was introduced to the cutting tool market in 2010 to meet the needs of new developments in hot section materials for jet engines. The new base material of WG-700™, combined with a nano-layered "platinum" coating, has met the challenge to productively machine the newest breed of materials such as Inco 718+ and other super alloys. In the standard high-strength materials such as Inco 718, cutting speed must be increased as well as the feed rates to get the maximum productivity out of the insert grade. WG-700™ is the third of three generations of advanced ceramics to increase productivity rates in a highly competitive industry that is integral to global commerce.
Greenleaf's research continues beyond the whisker-reinforced ceramics arena. XSYTIN™-1 is engineered specifically for the machining of difficult-to-machine materisl at very aggressive feed rates. The unique properties of this phase-toughened material will establish new benchmarks in the performance level of ceramics. The structure of XSYTIN™-1 exhibits high wear resistance and outstanding thermal shock resistance, which makes this grade a very predictable, high-performance product that is capable of a wide range of speeds and higher feed rates than competitive ceramic grades.
As the engines get lighter and lighter for fuel savings there are sections that become very thin. A wall section of 0.05" (1,27mm) in thickness is not an application for a ceramic cutting tool. Carbide must be used as the cutting tool, and controlling the chip becomes the paramount issue.
The Greenleaf precision ground TurboForm® insert utilizes a chipform that addresses the machining of the thin walls of new engine designs by drastically reducing the cutting forces involved. Material chips are reliably controlled at a range of depths of cut down to 0.005" (0,127mm). This design is a high, positive-rake cutting edge in a negative-style insert for maximum economy at high-performance levels. The TurboForm® insert design as well as other standard Greenleaf Corporation carbide grades such as G-925, G-920 and GA5026 are all excellent tools for the high-speed machining of high-strength alloys, titanium, high cobalt and stainless steel applications.
Greenleaf proudly offers special and custom engineered products. Customers from around the world use Greenleaf's engineering services to address their specific, and often complex, requirements. Computer Aided Design (CAD) utilizing advanced hardware and software enables fast turnaround of proposal drawings and finished detail drawings for tools as they enter our dedicated manufacturing facilities.
The advancements in cutting tool materials, coupled with Greenleaf Corporation designed tooling systems to enhance their performance, continue to provide engine manufacturers the productivity they need to meet their specific challenges. For more information about increasing your productivity and cost savings with any of our metalcutting tools and systems, contact your Greenleaf Corporation representative or visit us online at www.greenleafglobalsupport.com.
---