Silicon Nitride Grade for Cast Iron
Product Announcement from Greenleaf Corporation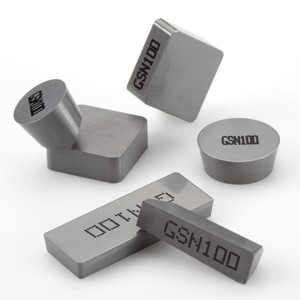 Greenleaf Corporation's ceramic insert grade GSN100™ is an engineered blend of silicon nitride and proprietary toughening agents that redefine productivity in the machining of cast iron.
Grades such as Greenleaf's GSN100™ work well in interrupted cutting and milling operations due to the high thermal shock resistance of silicon nitride. GSN100™ is outstanding in the machining of gray, ductile, and nodular cast irons.
This ceramic insert grade can dramatically increase productivity in the automotive and commercial transportation industries. Just a few popular parts where GSN100™ has proven outstanding results are brake drums, brake rotors, cylinder blocks and heads, machine beds, and all types of gear cases and housings for trucks, tractors and farm equipment.
"GSN100™ delivers outstanding tool life at cutting speeds of up to 5000 SFM (1525 m/min) in single-point turning and grooving operations as well as milling," states David Rydbom, Greenleaf's Vice President of Sales and Marketing. "GSN100™ is available in standard and special geometries, trigons, Rough Stuff® surface treatments and custom edge preparations for specific applications."
Tough metal-cutting jobs in the automotive industry demand the innovative solutions of Greenleaf cutting tools. Ask for a demonstration!
---