3-Stage Pumps for High Volume, Pressure, & Head...
Product Announcement from Griffin Pump & Equipment, Inc.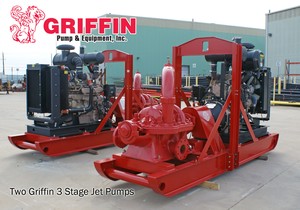 Griffin's 3 Stage Water-Jet Pumps Provide High Volume, High Pressure, High Head Capacity and Come Equipped with Tier 3 Engines for Clean Emissions.
Griffin's pumps are capable of delivering flow over 1,400 gallons per minute (318 cubic meters per minute), head conditions up to 900 ft. (275 meters of head) and comes equipped with hand-operated diaphragm primers as standard, but can be equipped for automatic priming. Griffin jet pumps are an ideal solution for pile and caisson jetting, field installation of well casings without digging or drilling, oil pipe line testing, water supply, fire protection, pipeline cleaning, mining or a variety of other applications that require high flow and high pressure.
Features:
· End suction centrifugal pumps
· 900 foot head capacity (275 meters of head)
· Hand primers standard; automatic primers are available
· Tier 3 engines to pass the toughest emissions regulations
· Integral fuel tank designed for 8 hour operation
· Pressure up to 370 psi (26 kgf/cm2)
· Flows up to 1,400 gpm (318 m3/minute.).
· 3 separate impellers for improved pressure
Griffin has manufactured many new high head 3 stage pumps during 2011 and 2012.
---