Groundwater and Effluent Pumping Systems
Service Detail from Griffin Pump & Equipment, Inc.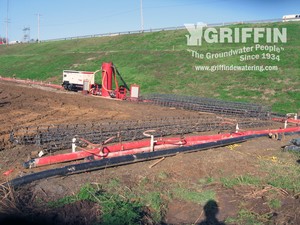 Griffin Has provided service and equipment to the construction dewatering and groundwater pumping market since 1934. For nearly 80 years Griffin has gained the respect of our customers by applying all the right solutions to their groundwater problems on projects both large and small. The key to Griffin's success has been the combination of engineering staff, field personnel and experience. The wide variety of dewatering and pumping problems encountered by its customers has
provided Griffin an opportunity to develop the necessary equipment and experience to solve most water handling problems.
Griffin continues to use our experience and operational knowledge to develop and produce to highest quality equipment to solve groundwater problems. Our standard equipment is used everyday in the field by our own team members and key customers. We offer products and turn key services to meet needs in dewatering, bypass, open pumping, and hydraulic submersible pump applications. Through the Griffin family, we can offer turn-key contract dewatering, rentals and service.
Griffin can offer a "one-stop ground water control shop" with experienced personnel and a wide range of equipment and services. We have offices throughout the country to help meet your needs.
---