Dewatering Pump: High Flow, Trash Handling, Silent
Product Announcement from Griffin Pump & Equipment, Inc.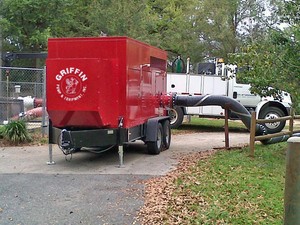 The Dewatering Pump in this photo is a Silent, Non-Clog, Trailer Mounted, 4" solid handling, 450hp, with head capacity over 300', flows up to 9,000GPM, with a 12" suction, and 10" discharge.
Griffin offers a variety of silent pumps with capacities from a few gallons per minute to over 20,000 gallons per minute.
· Large cleanout which allows removal of debris from the impeller without removing suction hose or suction piping.
· Self priming compressor assisted
· Sound attenuated enclosed pump for use in sound critical areas
· Non-clogging impeller design with 3" spherical solids handling
· Easy access to operating controls with lockable doors
· Noise level less than 70 decibels at 23 feet
Griffin's silent pumps are available in a wide variety of models for multiple types of applications such as sewer bypass, wellpoints and sumping. Units are designed to provide a quiet operation where pumping is required and noise must be kept to a minimum.
---