High Pressure Portable Jet Pumps from Griffin Pump
Product Announcement from Griffin Pump & Equipment, Inc.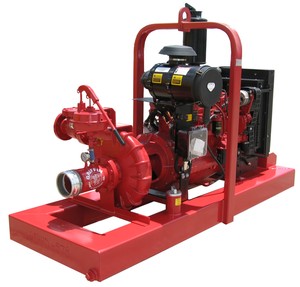 Griffin's High Pressure Jet Pumps are available in 4" and 6" models. These pumps are self-contained and portable.
These pumps are capable of delivering flow up to 1350 gpm and head conditions up to 300 ft. and higher. These pumps come equipped with hand-operated diaphragm primers as standard but can be equipped for automatic priming. Griffin jet pumps are an ideal solution for field installation of wellpoints or well casings without drilling.
These pumps are available in diesel or electric models. Other options and sizes are available. Contact Griffin for more information.

Features
• Use on a variety of applications requiring high pressure flow for jetting wellpoints, well casings or pilings.
• Variety of seal configurations available - conical seal, mechanical seal or packing.
• End suction centrifugal pumps
• Hand primers standard; automatic primers are available
• Integral fuel tank designed for 24 hour
---