Stainless Steel Submersible Long Pump Life GRIFFIN
Product Announcement from Griffin Pump & Equipment, Inc.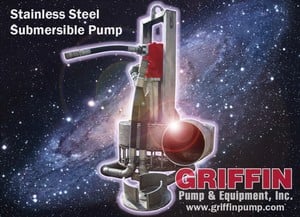 Griffin's Hydraulic Driven Submersible Pumps are available in trash, axial flow and materials handling models. The pumps range from 4" to 24" with a variety of impeller designs. These pumps are designed for handling high volumes of water up to 20,000 gpm and head conditions up to 140 ft. The impellers can handle solids up to 3". Some models may also be used for high pressure applications.
Griffin's material handling pumps are designed to fit in standard manholes for sewer bypass operations and liquids with heavy trash and solids content. Griffin's trash pumps are good for general pumping applications such as coffer cells or pumping lakes or ponds. Griffin's axial flow pumps are excellent for high flow situations such as river bypass or dam repairs.
Models available include Trash Pumps, Axial Flow Pumps & Materials Handling Pumps
Stainless steel pumps handle caustic and leachates
Special 6" models designed to fit standard manholes
Designed to handle sludge, trash, raw sewage, clear liquid and industrial effluent
Pumps capable of up to 140 ft of head and up to 20,000 gpm
Models available include Trash Pumps, Axial Flow Pumps & Materials Handling Pumps
Stainless steel pumps handle caustic and leachates
Special 6" models designed to fit standard manholes
Designed to handle sludge, trash, raw sewage, clear liquid and industrial effluent
Pumps capable of up to 140 ft of head and up to 20,000 gpm
---