GRISWOLD Pumps for Difficult Draining Applications
Product Announcement from Griswold Pump Company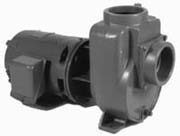 GRISWOLD self-priming centrifugal pumps are designed for a variety of applications. For example, they can be used for draining barges and tank cars, dewatering mines or underground storage facilities. Homeowners use them for sprinkler systems and swimming pools. When it comes to moving water from one place to another, there's no end to the jobs that a GRISWOLD Self-Priming Pump can handle!
Take a Look at These Features:
Fast, Positive Priming: Pressures in the case and in the volute are balanced during pumping, preventing any loss of capacity from recirculation. In operation, you get maximum pumping capacity at the lowest cost.

Semi-Open Type Impeller: High efficiency, semi-open type impeller with clearance easily adjustable to compensate for wear after extended service, even with abrasive liquids.

Mechanical Shaft Seal: The open type mechanical seal is the finest available. All metal parts are chrome nickel stainless steel. The stationary seal face is made of optimum grade ceramic, resiliently mounted. The self-lubricating carbon rotating seal face assures longer, more reliable operation with a minimum of wear.

Heavy Duty Case: Highest quality, close grain cast iron case construction features thick wall sections for more rugged operation under adverse pumping conditions. Yet the entire pump is amazingly lightweight.

Perfect Alignment: A heavy-duty rigid bracket maintains perfect alignment between the centrifugal pump and the motor.

Griswold H Series High Head, Self-Priming Centrifugal Pumps
Griswold's H series offers options other high head self-priming pumps don't. Ideally suited for turf irrigation, fire protection, swimming pool, industrial, marine and general transfer applications where greater flows and higher heads are needed. Available in 3, 5, 7½, 10, 15 and 20 horsepower with heads to 270' and flows to 325 GPM.
We've got WHAT you need, WHEN you need it. Griswold is staffed with a responsive team of industry veterans, dedicated to providing timely and reliable service. The company features a comprehensive, ready-to-ship inventory and special systems designed to ensure that each customer's needs can be easily met.
For full details, click the following link:
---