Griswold Pumps for Water Applications
Product Announcement from Griswold Pump Company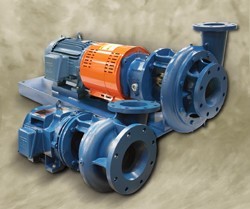 E,F&G Series centrifugal pumps from Griswold™ Pump Company set the standard in water-pumping applications. The enlarged pump suction and discharge nozzles cuts down on friction losses and results in less fittings, making the E,F&G Series ideal for use in commercial swimming pools, water parks, fountains, aquariums and many more water-pumping applications. Griswold's F Series pumps are also certified by NSF® to ANSI/NSF standard 50 for swimming pools-circulation system components.
Other key components designed in the E,F&G Series include:
Shaft Sleeve - The bronze shaft sleeve, which is renewable, insulates the shaft from abrasion.
Wearing Rings - Also renewable, the precision-made bronze wearing rings are pressed into the casing and/or adaptor as required and are easily replaced in the field.
Mechanical Shaft Seals - The Carbon, Ceramic, Buna and stainless steel components drastically reduce maintenance and adjustment issues.
Enclosed Impeller - The single-piece enclosed impeller is made of cast bronze and keyed to the shaft. It is precision-balanced with the diameter cut for the specific condition point.
Also separating the E,F,&G Series from the competition is its versatility, with capacities up to 3,000 gpm, heads to 310 feet, and a broad range of sizes and configuration options. E,F&G pumps are equipped with either close-coupled NEMA electric motors or they are frame-mounted with coupling to electric motors, engines, steam turbines or belt drives. The E,F&G's 360-degree mounting capabilities extend installation options, as do its close-coupled configurations that can be mounted vertically when space is at a premium. Easy maintenance is ensured by the pump's back-pullout design, which permits removal of the entire pump assembly. All E,F&G models are flanged in accordance with ANSI B 16.1 for 125-psi pumping applications.
For full details and specifications click the following link:
---