Submersible Pumps for Industrial Applications
Product Announcement from Griswold Pump Company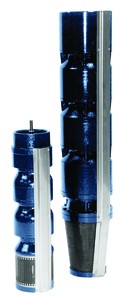 Griswold 4", 6" and 8" Submersible Turbine Pumps are designed for a wide variety of applications ... farm, home, fountains, irrigation, industry, municipal and commercial use.
Seven Series of 6" pumps with flow rates up to 550 GPM and two series of 8" pumps up to 1000 GPM.
Discharge, Intermediate Bowls and Motor Brackets: Heavy duty class 30 cast iron for maximum efficiency and abrasion resistance. Reliable long life bronze bearing in every stage.
Impeller: Balanced lead free silicon bronze, enclosed impellers designed for maximum efficiencies with a wide range of hydraulic coverage and corrosion resistance.
10", 12" & 14" Turbine Submersibles are also available, utilizing Griswold's vertical turbine bowls and fabricated brackets. Contact their application engineers for more information.
Fabricated assemblies available for in-line booster pumps and other special fabrication requirements.
Griswold has WHAT you need, WHEN you need it. Griswold is staffed with a responsive team of industry veterans, dedicated to providing timely and reliable service. The company features a comprehensive, ready-to-ship inventory and special systems designed to ensure that each customer's needs can be easily met. Standard units are shipped within 36 hours.
For full details, click the following link:
---