RO system brings ditch water to potable levels
Service Detail from Griswold Water Systems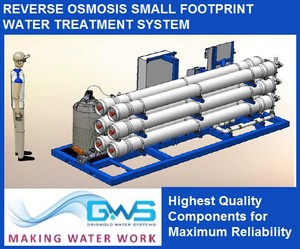 The new 75 GPM reverse osmosis small footprint skid systems are tailored to your application. They can be used on many different input fresh water streams. Well water or Ditch water can be brought to potable levels. Higher pressure and lower flow model is available for more brackish and sea supplies.
Griswold Water Systems Commercial Reverse Osmosis Small Footprint Skid RO System has a Siemens or Allen Bradley HMI PLC UL control panel with remote and network Profinet access.
These ASME grade systems are built with the highest quality components including
Protec Arisawa 8" Vessels
VFD connected Barrett Feed Pump
Hydranautics Membrane Cartridges
Stainless-Steel high-pressure manifold on feed side.
The frame is standard in powder coated steel and also available in stainless. Valve actuators and proportional control valves throughout the remote access automated system. Point lifting eyes for overhead lifting and forklift capable skid.
Systems are built to order. Griswold Water Systems is a custom fabrication ASME vessel UL Panel certified US manufacturer that has been providing water filtration solutions for 30 years.
E mail your inquiries via the links on this page or call 858-922-3162