Cold Rolled Spur Gears: Stock & Custom
Service Detail from Grob, Inc.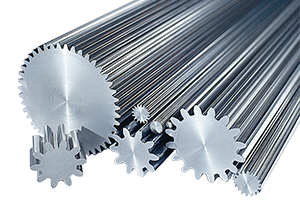 Watch>>>Cold Rolled Spur Gears • Custom & Standard/Stock • US Made | Grob Inc.
Cold Rolled Spur Gears: Stock & Custom
Grob's spur gear stock allows you the flexibility to create cold rolled spur gears that meet your exact specifications. We do this by creating long bar lengths of spur gear stock which allows you to cut or machine your steel spur gear to the lengths you need.
Standard Spur Gears
Available in mild to medium carbon steel, as well as aluminum
Available in either 14.5° or 20° pressure angles
Diametral Pitches ranging from 6 to 48
Modules ranging from .6 to 4
Outside Diameters (O.D.) up to 6″
AGMA 6-8 Quality
High Surface Finish, and all the advantages of cold rolling
Need a custom spur gear? Call Grob Inc. We manufacture a variety of standard cold rolled bar stock and custom cold rolled stock, either to our specifications or to yours. For custom, simply upload your drawing through our website and we'll contact you with a solution. Whether you use Grob standard stock or custom, you are getting a trusted name in materials and workmanship for your spur gear application. (Need help Reverse Engineering Your Spur Gear?)
Custom Spur Gears
Modified major diameters
Modified minor diameters
Modified backlash
Modified involute profiles
Cold Rolled
Save time & money, create cold rolled parts from bar stock. Choose from over 2100 existing profiles. If we don't currently have the profile you need, custom profiles are also available and are tooled quickly.
Watch>>>Cold Forming 101: Understanding the Process
Cold Forming 101: Understanding the Process
Cold forming – often known as cold roll forming – is a forging technique used to shape metal materials at near room temperature. Forming metal at cooler temperatures retains or enhances the tensile strength of the material while still allowing high levels of intricate manipulation.
Cold forming is a high-speed process that allows manufacturers to produces large amounts of metal-based products in a fast, consistent, and cost-effective manner. When compared to high-heat formation methods, cold formed products are harder, produce greater yield, feature higher tensile strength, and have a superior surface finish.
in this process, bar stock is rough turned to remove imperfections in the material surface and prepare the bar stock for grinding. After this, the turned stock is straightened to minimize any variation in the bar, and then ground to the final stock size at an optimal balance between the projected root and outside diameters of the finished part. Once these operations are complete, the rolling machine implements the final forming procedures, creating more intricate details such as precision gear teeth.
These details are created using displacement rather than cutting or grinding. By using immense pressure to reform the bar stock, the grain structure of the material is compressed instead of removed, which improves the ultimate tensile strength of the final part. This process maximizes material usage and significantly reduces production waste.
Suitable Metals for Cold Roll Forming
A variety of metals are suitable for cold forming. For example:
Alloy Steel (1045, 1117, 1215, 4140, 4150, 4340, 8620, H-11)
Stainless Steel (316, 416, 17-4)
Aluminum (2024, 6061)
Naval Brass
Most Materials up to 44 HRC
Other materials are simply too brittle for this process, such as cast iron.
What are the Advantages of this Process?
Cold forming reduces the amount of time and materials needed to produce consistent, high-quality metal parts and our cold-rolled parts have been estimated to be 20% sronger than similar parts produced by other fabrication methods.
While cold rolling may seem more expensive up front, the process eliminates the need for a variety of secondary machining operations, reducing both lead times and overall expense.
Our wide range of cold-rolled products includes more than 2200 existing profiles, ensuring that we can create any part your application requires.
Watch>>Grob Inc. - Manufacturing Marvels
Expert Cold Rolling at Grob, Inc.
Grob, Inc. has been providing cold-rolled parts to a wide range of industries for more than 70 years. We've developed our own methods for cold forming gears, splines, shafts, bushings, and a variety of other metal parts. Our proprietary process facilitates the tightest tolerances in the industry while providing ultimate strength and optimal surface finishes.
We also feature non-standard stock lengths not offered by most competitors. We can offer smaller diameters in lengths up to 6 feet, and larger diameters up to 12 feet. Our customization capabilities are unmatched, and up to 70% o our business comes from providing custom-designed products.
At Grob, our innovative processes, extensive experience, and in-depth knowledge help us deliver superior products in short time frames—and at lower costs. Please contact us for more information or a quote on any of our standard or customized cold-formed products.