Cold Rolled Strength & Surface Finish
Featured Product from Grob, Inc.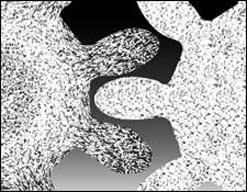 Cold Rolled Strength & Surface Finish
The Grob Rolling process increases the strength by rearranging the grain structure of the material over the entire tooth profile. The greatest amount of strength is gained near the bottom, or root area of the form where strength is most crucial. Note the tighter grain structure of a cold rolled tooth form (left) as compared to that of a cut gear (right). The result of the cold forming process produces a very high surface finish. Roughness average, (Ra) Readings of 4 micro inches have been produced.
Cold Rolled
Save time & money, create cold rolled parts from bar stock. Choose from over 2100 existing profiles. If we don't currently have the profile you need, custom profiles are also available and are tooled quickly.
Cold Rolled Products
Grob's innovative method of cold forming gives customers numerous advantages over traditional machining. These include a stronger profile, higher surface finish, and the ability to make bar lengths. .