Custom Spur Gears cold rolled or standard bar
Featured Product from Grob, Inc.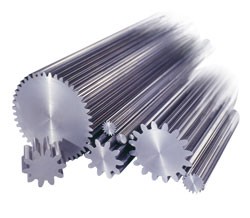 Custom Spur Gears
When custom spur gears are required for your project, call Grob Inc. We manufacture a variety of standard cold rolled bar stock and custom cold rolled stock, either to our specifications or to yours. Simply upload your drawing through our website and we'll contact you with a solution for custom spur gears. By using Grob stock, Custom Spur Gears cold rolled or standard bar stock, you are getting a trusted name in materials and workmanship for your Custom Spur Gears application.
Modified major diameters
Modified minor diameters
Modified backlash
Modified involute
In need of stock steel spur gears?
Founded in 1929 as "Grob Brothers," Ben and Ted Grob made their mark in the industrial saw and filing machine industry. Working their way through the Great Depression in a 20 x 20 foot garage, these two young engineers designed and built some of the most dependable and affordable vertical band saws and continuous filing machines ever made.
Although the company was successful, in 1951 the brothers parted business ways to explore separate ventures. Ben, staying in the band saw industry, went on to form "Grob, Incorporated." At that time, he also had an idea for a new process of cold forming gear and spline-like forms on accurately ground bars.
This revolutionary method-known to many in the industry as "Grob Rolling" - was ahead of its time in the 1950s and is still the best today. In fact, Grob Rolling has not only changed the foundation of the company, but has also changed the thinking of many end-users looking for a better way to produce stronger and more economical parts.
Unlike "hobbing" where material is removed by cutting the Grob process of cold roll forming displaces raw material to form the desired shape with virtually no waste. The process increases strength, durability, and produces and extremely high surface finish.
Still family owned and operated, today Grob, Inc. employs more than 50 technicians and engineers at a 100,000 square foot manufacturing facility located in Grafton, Wisconsin.