Grob 6V-36 Band & Friction Saw
Featured Product from Grob, Inc.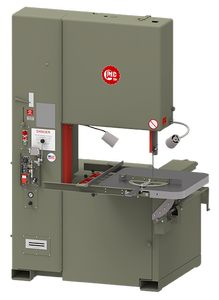 Grob 6V-36 Band & Friction Saw
Powerhouse built to tackle your toughest needs. Heavy duty Grob Inc. manufactured transmission with all cold rolled gears and splines for extra strength. High speed friction saws makes even cutting hardened steel a breeze. Mechanical safety brake on blade breakage. Friction Saws Models available with rolling table or extended work height.
Standard Equipment
15 h.p. Brake Motor - 230/460 Volt (Totally Enclosed Fan Cooled Ball Bearing Double Shaft Motor)
6 Speed Gear Box with Speed Indicator
Infinitely Variable Drive 25 - 15,000 f.p.m.
Air Hydraulic Feed
Friction Saw Capable
Wheel Brakes
Heavy Cast Iron Table - Tilt 45 Down Right, 5 Down Left
Work Lights
4″ Diameter Roller Guides
Saw Guides for Cold & Friction Sawing
36 5/8″ Diameter Vulcanized Pulleys
Butt Welder
Air Chip Blower
Rip Fence
Miter Gauge
Flood or Mist Coolant
Magnifying Glass
Circular Cutting Attachment
30″ Work Height
Watch>>Grob Inc. - Manufacturing Marvels
Expert Cold Rolling at Grob, Inc.
Grob, Inc. has been providing cold-rolled parts to a wide range of industries for more than 70 years. We've developed our own methods for cold forming gears, splines, shafts, bushings, and a variety of other metal parts. Our proprietary process facilitates the tightest tolerances in the industry while providing ultimate strength and optimal surface finishes.
We also feature non-standard stock lengths not offered by most competitors. We can offer smaller diameters in lengths up to 6 feet, and larger diameters up to 12 feet. Our customization capabilities are unmatched, and up to 70% o our business comes from providing custom-designed products.
At Grob, our innovative processes, extensive experience, and in-depth knowledge help us deliver superior products in short time frames—and at lower costs. Please contact us for more information or a quote on any of our standard or customized cold-formed products.