Grob Cold Rolled Spline Shafts
Service Detail from Grob, Inc.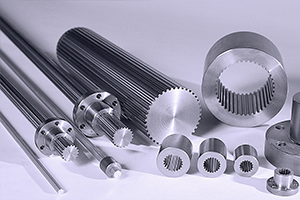 Standard Spline Shafts
Grob Standard Spline Shafting has been designed to maximize torsional strength and contact area. Grob's cold rolled spline shafts are made with an even number of teeth and are parallel over two or more teeth. When your project requires mating parts, look no further.
For your convenience we have off the shelf mating broached sleeves and flanged bushings to match our Grob Standard Spline shafts. We also offer custom broaching of your parts to match with our Grob Standard Splines.
Full Flank Fit
Large Contact Area
Equal size tooth to space ratio
The same pressure angle as parallel sided spline
3 x's the work surface of parallel sided spline
Mating sleeves or flanged bushings
Custom spline shafts & shapes are also available
Cold Rolled
Save time & money, create cold rolled parts from bar stock. Choose from over 2100 existing profiles. If we don't currently have the profile you need, custom profiles are also available and are tooled quickly.
Watch>>>Cold Forming 101: Understanding the Process

Cold forming – often known as cold roll forming – is a forging technique used to shape metal materials at near room temperature. Forming metal at cooler temperatures retains or enhances the tensile strength of the material while still allowing high levels of intricate manipulation.
Cold forming is a high-speed process that allows manufacturers to produces large amounts of metal-based products in a fast, consistent, and cost-effective manner. When compared to high-heat formation methods, cold formed products are harder, produce greater yield, feature higher tensile strength, and have a superior surface finish.
in this process, bar stock is rough turned to remove imperfections in the material surface and prepare the bar stock for grinding. After this, the turned stock is straightened to minimize any variation in the bar, and then ground to the final stock size at an optimal balance between the projected root and outside diameters of the finished part. Once these operations are complete, the rolling machine implements the final forming procedures, creating more intricate details such as precision gear teeth.
These details are created using displacement rather than cutting or grinding. By using immense pressure to reform the bar stock, the grain structure of the material is compressed instead of removed, which improves the ultimate tensile strength of the final part. This process maximizes material usage and significantly reduces production waste.
Suitable Metals for Cold Roll Forming
A variety of metals are suitable for cold forming. For example:
Alloy Steel (1045, 1117, 1215, 4140, 4150, 4340, 8620, H-11)
Stainless Steel (316, 416, 17-4)
Aluminum (2024, 6061)
Naval Brass
Most Materials up to 44 HRC
Other materials are simply too brittle for this process, such as cast iron.