Grob high-quality timing pulley stock
Featured Product from Grob, Inc.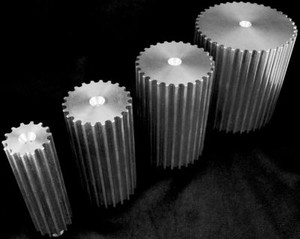 Cold Rolled Strength & Surface Finish
The Grob Rolling process increases the strength by rearranging the grain structure of the material over the entire tooth profile. The greatest amount of strength is gained near the bottom, or root area of the form where strength is most crucial. The result of the cold forming process produces a very high surface finish. Roughness average, Ra Readings of 4 micro inches have been produced.
Grob Rolling Method
With Grob cold roll forming, the groove is formed down between the teeth. The material displaced from area "A" (see sketch below) forms the tooth tip area "B". This is a severe reverse flow. With no elongation, the area of raw material displaced must be the exact same as the area it was displaced from.
Through this process, we're able to roll both even and uneven numbers of teeth on a cylindrical blank with symmetrical patterns only. Tubular blanks can be formed over a grooved mandrel, which permits internal corrugation of the blank white external shape is rolled.
Material & Solid Blank Preparation
Because the Grob Rolling process displaces material instead of removing it, proper material selection is important. With this process, almost any ductile material may be used. Generally, material with a hardness of less than Rockwell "C" 20 works well. If carbon steel or alloy steel is to be used, it must be annealed first. The blank or stock must be free of flaws, uniform in ductility, and must be the correct outside diameter to produce an accurate form.
Cold Rolled Strength Through Innovation
Work hardening of the rolled form depends on the material composition, the hardness before rolling, the depth of the tooth form, and the feed rate of rolling. Not all material works well for the same shape. For example, aluminum and some stainless steels may be formed to produce a spline shape or shallow tooth form, but may not be used to produce a full depth gear because the material work hardens too quickly and will not flow up to fill in the tooth form.
Have It Your Way
Grob, Inc. is currently tooled to roll more than 2,100 different shapes from a wide variety of materials including mild and medium carbon steels, stainless steels and aluminum. Bar stock lengths with a rolled outside diameter of up to 6″ inches may be rolled. (No helical or skip tooth configurations.)
Timing pulleys, standard spur gears, involute splines, straight-sided splines, ball splines, gerotor and ratchets are all typical Grob-rolled products.
Need to Roll a Unique Shape?
Grob will economically custom tool to your specifications and provide a sample for your approval. Whether you need material rolled end to end, just on an end or on a blank Grob Rolling may very well be the best process for your needs.
"Well-Rounded" Capabilities
From 48 pitch Pinion Wire to Gerotor to 6″ dia. Pulleys, Grob, Inc. can produce a product to fit any of your special requirements. Send us your tubing or formed sheet metal drums, Grob is equipped to roll forms for surface enhancement, fluting, and spline shapes to your engineering specifications.
Watch>>Grob Inc. - Manufacturing Marvels
Expert Cold Rolling at Grob, Inc.
Grob, Inc. has been providing cold-rolled parts to a wide range of industries for more than 70 years. We've developed our own methods for cold forming gears, splines, shafts, bushings, and a variety of other metal parts. Our proprietary process facilitates the tightest tolerances in the industry while providing ultimate strength and optimal surface finishes.
We also feature non-standard stock lengths not offered by most competitors. We can offer smaller diameters in lengths up to 6 feet, and larger diameters up to 12 feet. Our customization capabilities are unmatched, and up to 70% o our business comes from providing custom-designed products.
At Grob, our innovative processes, extensive experience, and in-depth knowledge help us deliver superior products in short time frames—and at lower costs. Please contact us for more information or a quote on any of our standard or customized cold-formed products.