Makes even cutting hardened steel a breeze.
Featured Product from Grob, Inc.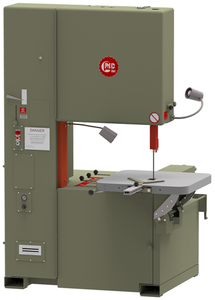 Grob 6V-36 Friction Saws
Powerhouse built to tackle your toughest needs. Heavy duty Grob Inc. manufactured transmission with all cold rolled gears and splines for extra strength. High speed friction saw makes even hardened steel a breeze. Friction Saws Models available with rolling table or extended work height.
15 h.p. Brake Motor - 230/460 Volt (Totally Enclosed Fan Cooled Ball Bearing Double Shaft Motor)
6 Speed Gear Box with Speed Indicator
Infinitely Variable Drive 25 - 15,000 f.p.m.
Air Hydraulic Feed
Friction Saws Cutting Capabilities
Wheel Brakes
Heavy Cast Iron Table - Tilt 45 Down Right, 5 Down Left
Work Lights
4" Diameter Roller Guides
Friction Saw Guides for Cold & Friction Sawing
36 5/8" Diameter Vulcanized Pulleys
Butt Welder
Air Chip Blower
Rip Fence
Miter Gauge
Flood or Mist Coolant
Magnifying Glass
Circular Cutting Attachment
30" Work Height
Band-Saws:
4V-18
18" Throat Depth
12" Work Height
4V-24
24" Throat Depth
12" Work Height
4V-36
36" Throat Depth
12" Work Height
6V-36 Friction Saws
36" Throat Depth
20" Work Height
Band Saw Optional Equipment
Grob Band Saws are supplied with an extensive list of standard features and equipment to support a wide variety of sawing applications. These capabilities can be enhanced with the addition of optional equipment that reflects the same quality and durability as the saws themselves.
Excellence Engineered into Every Project
It is GROB's ongoing mission to be the standard by which all industrial bandsaws are measured. Our basic saw designs have kept pace with changing technologies. We have never lost sight that sound sawing principles are what our customers demand. GROB's current line up meets and exceeds those demands by providing a range of products that match any metalcutting application. GROB saws are designed to deliver dependable operation year after year.
About Grob:
Founded in 1929 as "Grob Brothers," Ben and Ted Grob made their mark in the industrial saw and filing machine industry. Working their way through the Great Depression in a 20 x 20 foot garage, these two young engineers designed and built some of the most dependable and affordable vertical band saws and continuous filing machines ever made.
Although the company was successful, in 1951 the brothers parted business ways to explore separate ventures. Ben, staying in the band saw industry, went on to form "Grob, Incorporated." At that time, he also had an idea for a new process of cold forming gear and spline-like forms on accurately ground bars.
This revolutionary method-known to many in the industry as "Grob Rolling" - was ahead of its time in the 1950s and is still the best today. In fact, Grob Rolling has not only changed the foundation of the company, but has also changed the thinking of many end-users looking for a better way to produce stronger and more economical parts.
Unlike "hobbing" where material is removed by cutting the Grob process of cold roll forming displaces raw material to form the desired shape with virtually no waste. The process increases strength, durability, and produces and extremely high surface finish.
Still family owned and operated, today Grob, Inc. employs more than 50 technicians and engineers at a 100,000 square foot manufacturing facility located in Grafton, Wisconsin.