Groschopp AC Controls
Featured Product from Groschopp, Inc.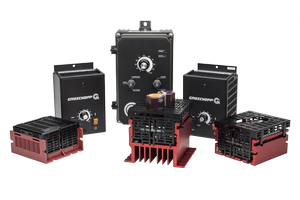 This control allows equipment to operate with Ground Fault Circuit Interruption circuit breakers or outlets. It saves time, is easy to install, and is simple to operate. It does not require programming and is able to be up and running in less than 10 minutes. This control provides overload protection, allowing motors to last longer by preventing motor burnout and eliminating nuisance tripping. It also saves energy as it only uses the power required for the application. Replacing constant speed with variable speed will significantly reduce energy costs as well.
0.1, 0.5 and 1 HP
115 & 230 V single phase output
230 V 3 phase output
Open loop controls
Chassis and NEMA 4X enclosures
Filter, noise suppressors, and signal isolators available upon request
Compatible inverter duty motor options
Upload application specs and we will help you find the right solution for your needs. Groschopp offers a full line of standard AC Induction, Permanent Magnet DC, and Brushless DC motors that can be combined with four gearbox styles: Parallel Shaft, Planetary, Right Angle, Right Angle Planetary. Each motor or gearmotor can be modified or built completely custom to meet an application's requirements. Groschopp Universal motors are custom built based on five standard frame sizes. If you have any questions about the application specs form or any of our products, give us a call at 800-829-4135 or send us an email.