Digital Control Filling/ Spraying System-FSH-SK-AP
Featured Product from Guangzhou Ascend Precision Machinery Co., Ltd.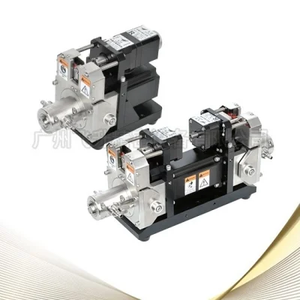 The FSH- SK-AP intelligent series is based on the FSH-AP standard serial, which adds intelligent adjustment. RS232 interface or Ethernet interface (for intelligent fixed volume, variable volume dispensing). It is more suitable for injection / glue dispensing / spraying application.
System features:
Dispense volume per stroke 0-0.2ml
Intelligent digital volume control
Extremely high hardness(Mohs hardness rating of 9---next to diamond)and high density special ceramics.
Multi stage high precision polishing processing.
High efficiency and high precision. (±0.3% CV).
Maintenance free design. Extremely reliable.
On line cleaning / sterilization.
Driving method: step motor. Medium / high torque motor selection.
Counting function
Control method: Automatic control by external PLC / computer or IPC. Or manual operation by external pedal switch.
Communication port: I/O,CC TRIG, AUX OUT,Ethernet,RS232
The linear motor automatically adjust angle. Digital volume change with high precision and fast speed.
Compensation mode improves stability substantially.
Anti-jam design to eliminate pump jamming.
Specifications
Product Category:Fluid Dispensing Equipment
Dispensing Equipment Type:Dispense Only
Application:CoatingPaint; FoodBeverage; FuelOil; MedPharmaceutical; Lithium battery electrolyte injection, Reagent dispensing or filling, Contact lens dispensing, Flavor, essence and liquid vitamin additions
Dispensing Type:Fill ("potting")