Spraying System -- FSH-DS128
Featured Product from Guangzhou Ascend Precision Machinery Co., Ltd.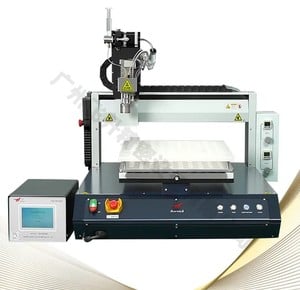 FSH-DS128 series spraying system is a new high-precision CNC micro spray atomization system launched by Guangzhou Ascend company. The system includes a set of high-precision micro ceramic pump system, a XYZ three-axis platform, and a set of micro precision atomization nozzle. It can realize ultra-fine atomization of 5-50 micron fluid, and the minimum spraying volume can be ul level. It can be used for extremely viscous fluid spraying such as Dow Corning 360 silicone oil.
Features:
Spray volume: nl, ul,ml
Fluid viscosity:0-12500cps, a wide range of fluids, from very thin fluids to Dow Corning 360 silicone oil or more viscous fluids
Atomization effect: fine, uniform, 5-50 micron size fluid atomization
High consistency and repeatability
Fluid heat part can be installed.
Specifications
Product Category:Fluid Dispensing Equipment
Dispensing Equipment Type:Dispense Only
Application:FoodBeverage; FuelOil; HighViscosity; MedPharmaceutical
Media Viscosity:0.0 to 12500 cps