Shipbuilding Weld Automation Solutions
Service Detail from Gullco International Limited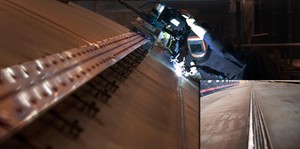 To date a variety of Gullco automation products have been found to be extremely reliable in a variety of applications and environments within the shipyard. Because of its rack and pinion drive system and microprocessor based control the KAT is able to travel at precise speeds in any welding position. When used in co-operation with the MOGGY for flat fillet weld applications and the KBM beveling machine for edge preparation great improvements in productivity can be achieved. Combined with the improved weld quality and cost reduction of modern automation processes shipyards have been able to remain completive in a changing environment.
THE EQUIPMENT


KAT - All position carriage, used in 1G,
2G, and 3G positions

MOGGY- Trackless carriage: Standard and
Dual Torch models for continuous and stitch welds

KBM - 18 and 28 models for offsite steel
suppliers, hand held model for out of position bevels

THE PROJECT

Recently commenced is a project that will see Gullco welding automation used to produce two UK Navy Air Craft carriers in the coming months. This shipyard in Cammell Laird, Merseyside has selected Gullco equipment after a list of companies where tested for their effectiveness to meet military welding inspection standards. It was agreed upon by the UK Shipyards that the automation equipment supplied by Gullco was the most reliable and most consistently met weld quality standards. It is important that the automation produce high integrity welds at an increased frequency to previous production methods in order to increase manufacturing efficiency. This project will see various types of welding applications throughout its completion and the welding technicians will utilize the versatility of the KAT all position carriage to produce the majority of these welding procedures.
THE CHALLENGE

The shipyard in Merseyside was faced with the task of producing 2 aircraft carriers under strict deadlines, with increasing quality standards. These issues are then compounded with having to source, and train welding technicians on the selected automation equipment which will be used to complete the project. Early on in this process it became apparent that finding reliable, easy to use weld automation equipment, which is coupled with great onsite training and back end support, would be the critical challenge to the successful completion of this high profile project. This was combined with the challenge of having high integrity bevels, with consistent root face made off site by a 3 party company who would produce the steel for the completion of the carriers.

THE SOLUTION
After several companies made proposals, the GULLCO International line of welding automation equipment was selected. This was in part due to its versatility. Through the use of a track and mounting device system the KAT carriage is able to operate in all positions, reducing the amount of equipment training necessary to complete a variety of weld applications. This was especially appealing when combined with onsite training provided by Gullco's welding technicians.
Another key factor to this solution was Gullco's great back end support team for technical questions and equipment related inquiries which gave them peace of mind to put the aumomation to the test. The solution to the steel issues would be solved with a gift. The shipyard would purchase two KBM bevelling machines from Gullco, which could produce the consistency necessary while eliminating material distortion and GIVE them to the steel manufacturing facility in order to insure the quality standards and regulations were met. Other equipment involved in this solution included, the MOGGY portable trackless welding carriage, used to produce the welds completed in the flat position. This carriage was ideal because of its extreme portability and versatility. The MOGGY carriage can be used in the welding of shiphull stiffeners and all other fillet, lap, and butt welds done in the flat position.

THE REPUTATION


Gullco International is a world-renowned manufacturer of automatic welding carriages, cutting carriages, welding automation and accessories. Gullco's weld automation equipment improves quality and increases welding productivity while reducing cost through its industry approved products which have been available since 1954. The KAT® welding travel carriage is used throughout the world in a variety of applications including: Shipbuilding, Tank Welding, Sphere Welding, Structure Steel, and various custom applications. Through the versatility and experience of the Gullco welding automation products the KAT® or other automation solutions from Gullco can be configured to meet the requirements of most applications.
---