Premium Quality Machining with KA Power Units
Product Announcement from HAWE North America Inc.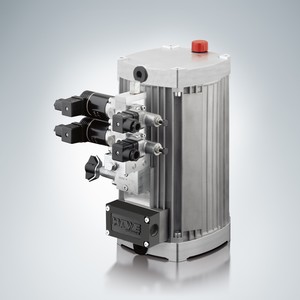 HAWE Hydraulics solutions save you and your customers time, space and energy. State-of-the-art HAWE components are the building blocks that can easily be combined to meet your requirements. We provide you with compact plug-and-play solutions that can be positioned for easy access and maintenance inside the machine housing.
Energy savings translates into dollar savings. That's why HAWE hydraulic components make sense. Our hydraulic solutions ease your bottom line with innovative modular components.
Our products help save space and energy through utilizing the following:

Intermittent service of the hydraulic pumps
Accumulator charging operation with idle pump circulation
Dual-stage pumps (rapid traverse and creeping)
Zero leakage due to seated valve technology
8-Watt technology
Innovative Technology
Compact hydraulic power unit KA combines a hydraulic pump, fluid immersed motor, and fan into one unit. Vertical or horizontal versions are available with or without the electrical connection via a HARTING plug (IP 65). The zero-leak seated valve bank can be mounted directly on the power unit.
The HK power unit is suited for intermittent or permanent operation. It has an optional accumulator, which enables smaller consumers to be fed without starting the pump. Combined with 8-W technology, this unit is extremely efficient.
Add to all this the space savings due to the compact size of our products, and you get clean machine design, straight forward operation and maintenance, and most importantly, satisfied customers.
Contact us today for more information!
---