BV Series Valves: Small Package, Huge Reliability
Product Announcement from HAWE North America Inc.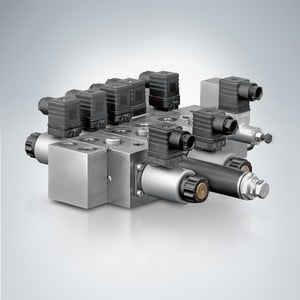 BVG, BVE, and BVP versions are 2/2- and 3/2-way and are available in three sizes:
Size 1 has a flow up to a maximum of 5 gpm (20 lpm) at operating pressures up to a maximum of 7,200 psi (500 bar).
Size 3 has a flow up to a maximum of 13 gpm (50 lpm) at operating pressures of up to a maximum of 5,800 psi (400 bar).
Size 5 is a 2/2-way valve for a volume flow up to a maximum of 80 gpm (300 lpm) at operating pressures up to a maximum of 5,800 psi (400 bar).
The NBVP version is only available as size 1 has an option for industrial standard connection pattern NG6.
For BVE, solenoids are offered for all common supply voltages as well as for different connector variants (AMP, M12), and are ATEX compliant. The interchangeable coil guarantees simple replacement if, for example, the solenoid voltage needs to be modified at a later time.
All ports are equally pressure resistant due to an internal static pressure balance. Additional elements for ports P, R, A, and B (e.g., screw-in orifices, restrictor check valves) can be incorporated in the valve body to customize the valve exactly to the system requirements.
The valves may be connected directly via pipes (BVG), mounted at customer furnished manifolds (BVP and BVE) or industrial standard sub-plates (NBVP). Because the BV series are cartridge valves, they can be easily and quickly installed. Various actuation modes (BVE only with solenoid actuation) enable use of these valves in a wide field of applications.
All HAWE pressurized components are made of steel. That enables the valves to withstand high pressures over a long period and enables a space saving design.
---