Smart Communication Between Components PSL/CANBUS
Product Announcement from HAWE North America Inc.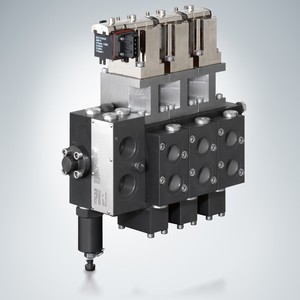 HAWE Hydraulics, a leading supplier of sophisticated controls to the mobile and industrial markets, enhances the proportional spool valve, type PSL, complete with direct CAN-BUS interface. The simplified wiring for quick and safe installation is its new design characteristic. Unlike ordinary designs on the market, the wiring is connected and ready for use by inserting the entire cable.
The electrical connection complies with the protection rating IP 67, enabling a broad range of mounting locations even in rough environmental conditions. The integrated signal relay ensures the automatic optimization of the valve's reactive behavior. This will result in a reduction of hysteresis, which offers greater precision of repetitions and/ or the integration of automatic sequences. The self-instructing functions of parameters also reduce the set-up time for the user.
The PSL valve is designed for use in mobile hydraulics and provides load independent proportional directional control for hydraulic consumers. The CAN-BUS control facilitates actuation of complex systems while greatly reducing system wiring and set-up time.
The PSL valve bank components include the connection block, for constant and/or adjustable pump systems; the spool valve sections, with various supplementary functions for the consumer side (over-center valves) and an end plate. All pressurized components are made of steel and enable flow rates of up to 31 gpm and pressures up to 420 bar (6,000 psi).
---