The New V40M for Mid-Range Pressure
Product Announcement from HAWE North America Inc.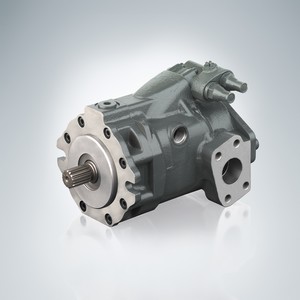 The new V40M axial piston pump is designed for open-circuits in mobile machines and has a displacement volume of 2.75 in3/rev. Its swash plate design allows for easy fine tuning of the flow rate. With a self-priming speed of 2,900 rpm, it is suitable for applications that require operating pressures up to 3,625 psi but can handle pressures spikes up to 4,600 psi.
The pump is connected to the PTO or directly to the motor by an SAE-B flange. It is available with load-sensing and electric proportional controllers, and is designed to integrate with HAWE's modular line of valves. Among the options available is a thru-shaft with radial suction and pressure ports for mounting additional variable displacement pumps or auxiliary pumps.

The V40M has a length of 8.2 inches. It fits small spaces making it particularly well suited for applications where a tandem pump is needed if efficient parallel operation of multiple consumers at full load is called for.
Contact us for more information.
---