Zero-Leak Directional Control Valves
Product Announcement from HAWE North America Inc.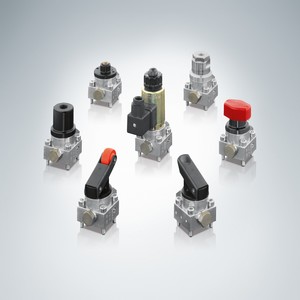 The G series valves from HAWE Hydraulics use spring loaded balls as the seating valve element, creating a true zero leak directional control valve. Maximum pressure capability on selected sizes is 10,000 psi (700 bar). They are available with various actuations that act on an angled lever pushing the valve element into the desired position. The basic versions are 2 way-2 position (2/2) and 3 way-2 position (3/2) directional valves. Additional flow patterns include 4 way-2 position (4/2), 3 way-3 position (3/3), and 4 way-3 position (4/3). The G valves are a manifold-mount design and can be equipped with sub-plates that enable pipe connections. Because of the available optional functions that can be incorporated in these sub-plates such as, a pressure limiting valve or restrictor check valve, this valve can be used in a wide variety of applications. These valves are also available as a valve bank ( VB) for multiple control requirements.
---