Tungsten, Molybdenum, Tantalum Aviation & Defense
Product Announcement from H.C. Starck Inc. - Fabricated Products Group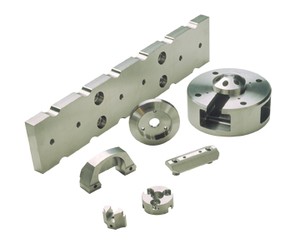 Molybdenum, Tungsten, and Tantalum for Aviation & Defense
As aircraft turbine engines seek greater efficiency, their designs necessitate robust materials that withstand extreme mechanical and thermal stress.
H.C. Starck provides not only molybdenum-based (TZM and Molybdenum Lanthanum Alloys) metal dies to forge the precision fan blades and rotors, but also the high performance powders to coat them providing an increased service life. Thermal-spray application of insulation layers on turbine blades optimizes engine performance, diminishes backflow, lowers fuel consumption, and enables safer engine operation. These powders are available through our AMPERIT product line.
Precision balancing of both fixed and rotary wing aircraft is critical to reducing vibration and enhancing pilot and passenger comfort. This is best achieved with dense, high-strength materials produced for optimum weight concentration. To help balance and stabilize the control surfaces of ailerons, elevators, and rudder sections of aircraft, helicopter rotor blades, and cockpit instrumentation, H.C. Starck offers complex-shaped balance weights manufactured from tungsten heavy metal alloys.
Providing both build-to-print components and design assistance, H.C. Starck provides tungsten, molybdenum, and tantalum products to the world's premier warhead manufacturers. In line with other aerospace products, H.C. Starck supplies defense manufacturer's tungsten alloy balance weights for missile bodies and sensor arrays. Finally, solid rocket motors use numerous specialty compounds to enhance thrust and molybdenum-based products (Powder Metallurgy and Arc Cast Grades) to guide propulsion though vanes and nozzles.
Completing H.C. Starck's portfolio is its best-in-class extrusion and rotary forging facility where large complex shapes are extruded from specialty metals and alloy-based systems including titanium, nickel, molybdenum, tantalum, niobium and other high-tech materials for critical aircraft structural components.
Aerospace and Defense are important markets for H.C. Starck, who has been supplying to some Aerospace and Defense applications for several decades. As the industry performance requirements continue to grow, H.C. Starck is making investments in its materials and processing technology to support these requirements.
Tungsten Alloy Products: 17.0 to 18.5 grams per cc
K1700, K1701, K1750, K1800, K1801, K1850
HPM1700, HPM1701, HPM1750, HPM1800, HPM1801, HPM1850
Refer to Product Data Sheets:
PD-7100 Tungsten High Density Composites
Molybdenum Sheet, Plate and Foil Products:
H.C. Starck produces a wide range of molybdenum and molybdenum alloy mill products using two primary consolidation methods; vacuum arc-casting (AC) and powder metallurgy (PM). The availability of products from both of these established processes gives users many options in selecting a material to satisfy their specific application requirements. Mill products available from either process include forging billets, bar, rod, sheet, plate and foil.
Refer to Product Data Sheets for Molybdenum for sizes:
PD-7000 Pure Molybdenum AC Bar Low Carbon
PD-7006 Pure Molybdenum AC Bar
PD-7001 Molybdenum Alloy TZM PM Sheet 2702
PD-7011 Molybdenum Alloy TZM PM Plate 2703
PD-7004 Molybdenum Alloy TZM AC Plate 3403
PD-7005 Molybdenum Alloy TZM AC Sheet 3402
PD-7021 Molybdenum Alloy TZM AFBT AC Forging Billet
PD-7025 Molybdenum Alloy TZM ABT AC Bar
PD-7031 Molybdenum Alloy P/M TZM PM Billet
PD-7043 Molybdenum Alloy ODS Mo-La PM Sheet 2602
PD-7044 Molybdenum Alloy ODS Mo-La PM Plate 2603
PD-7020 Molybdenum Alloy AFB-30W AC Forging Billet
PD-7022 Molybdenum Alloy AFB AC Forging Billet
PD-7024 Molybdenum Alloy AB-30W AC Bar
PD-7008 Molybdenum Alloy PBT PM Bar
PD-7009 Pure Molybdenum PB PM Bar
PD-7010 Pure Molybdenum PSB PM Billet
PD-7029 Pure Molybdenum Plate PP-22-2
PD-7014 Pure Molybdenum Sheet Premium Grade PS-100-2
PD-7016 Pure Molybdenum Sheet Standard Grade PS-300-2
PD-7017 Pure Molybdenum Foil F-21-5
PD-7026 Pure Molybdenum ABL AC Bar Low Carbon
PD-7028 Pure Molybdenum ASL AC Sheet 3202 Low Carbon
PD-7030 Pure Molybdenum APL AC Plate 3203 Low Carbon
Tantalum and Tantalum Alloy Products:
Refer to Product Data Sheets for Tantalum for sizes:
PD-7033 NRC Ultra 76 Tantalum Alloy (Ta 2.5%W)
PD-7035 NRC Tantalum (UNS R05200)
PD-7036 NRC Tantalum Beam Melted Tantalum (ETA) (UNS R05200)
PD-7037 NRC 91 Alloy (ta-7%)
PD-7041 NRC Ultra 76 Tantalum Alloy (Ta 2.5%W)
Customer Collaboration with Tighter Process Controls
To meet the rapidly growing demands of the aviation and defense market, H.C. Starck works closely with its customers in developing and producing custom products per customer specifications. With over 50 years of experience in manufacturing high-tech materials for various applications, H.C. Starck consistently delivers materials and products of exceptional quality.
As a vertically integrated manufacturer, we exercise tight control of all our processes from refining the raw materials to delivering high purity finished products. H.C. Starck has a unique global reach allowing for close contact and collaboration with our customers. Our experienced Research and Development department allows us to constantly be at the forefront of technological advancement and development of new products together with our partners in the industry.
Download a free brochure:
http://www.hcstarck.com/en/hc_starck_group/brochure_downloads.html
Contact:

Play Tungsten, Molybdenum, Tantalum Aviation & Defense Video
---