Large Selection of Material Handling Equipment!
Product Announcement from H&K Equipment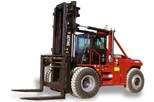 H&K Equipment has a large and diverse fleet of fork lifts to meet your material handling needs. We are an authorized dealer for the complete material handling equipment product lines of Taylor, Nissan, Autolift, Elwell-Parker, Komtasu, Manitou and Schreck fork lifts.
H&K Equipment also sells and supports a complete line of sweepers, scarifiers, and scrubbers for all your industrial and commercial cleaning needs. Please visit our website's Products Section to view our fine line of cleaners, including PowerBoss and Factory Cat.
We have resources for locating the specialty equipment you need to manage your projects. We have die handlers, platform trucks, tow tractors, railcar movers, container handlers, AGVs and can adapt equipment to meet your specialty needs.
One of our specialty features is our remanufacturing services. CLICK HERE to view the evolution of one of our remanufactured vehicles.
See a VIDEO TOUR of our facilities!
Contact us today to discuss our solutions for your needs. Call us at 412-490-5300, or toll-free at 800-272-9953.
---