10nm Particulate Analyzer, MEXA-2010SPCS
Featured Product from HORIBA Instruments, Inc.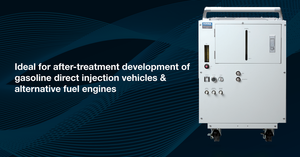 The introduction of the new MEXA-2010SPCS enables counting of particles down to 10nm particle size. Following recent scientific evidence on the harmful health effects of nanoparticles in this size range, HORIBA's improved SPCS anticipates upcoming European and China legislation – China 6 and Euro 7/VII – aimed at lowering the size limit of particles to be characterized in automotive exhaust and brake emissions.
The MEXA-2010 SPCS is used in additional applications beyond legislations such as design and development after treatment systems such as catalysts, gasoline and diesel particulate filters as well as determining the effect of new fuels from gasoline, diesel and alternative fuels.
"Utilizing our patented wide-range continuous diluter, our customers are able to accurately count the relevant solid particles from vehicles or engines with a wide-range of emission levels while reducing particle losses," explains Rick Rooney, director of technical marketing, HORIBA Instruments Inc. "The MEXA 2010 SPCS is easily integrated into existing test cells with its small footprint and standalone controller for quick adaptation to the new legislation requirements."
The MEXA-2010SPCS will integrate with an existing test cell control system and no major modifications are needed as it takes samples from CVS Tunnel (dilute), Tailpipe (raw), Partial Flow Dilution Systems and supports multiple fuel types.
The basis for this technology is the well-established SPCS, the market leading measurement instrument for particle number homologation. Using the latest catalytic stripper technology, the challenge of removing the large number of non-solid particles in the 10nm range from the sample is overcome. This new technology may also be adapted to the existing MEXA-2000SPCS during annual maintenance cycles to expand testing capability.