HORIBA UP-100 Micro Volume pH Monitor
Featured Product from HORIBA Instruments, Inc.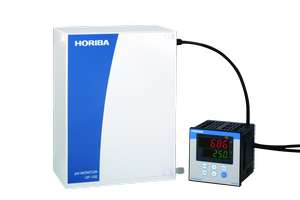 Consumes only 500μL/minute, Maximum 30 mL/hour.
Real-time measurement
One minute measurement interval (minimum)
Includes internal storage of standard solutions for automatic calibration and replenishment of KCl
Designed for 6 month continuous operation without operator intervention for minimizing downtime
When HORIBA UP-100 is connected to a storage vessel containing - or a pipe conveying - a liquid product for which the pH level must be monitored, the UP-100 is able to take a small sample (only 0.5mL), as frequently as once per minute if required, determine its pH level and then dispose of the tested sample to waste; thus removing any risk of contaminating the product.
Stuart Knight, Director of HORIBA UK, comments: "Many industrial processes require continuous pH monitoring. Even if a reading can be taken in just 10 minutes, that equates to about 60 hours when extrapolated over the course of a year, assuming only one sample per day. The UP-100 is therefore a cost-effective aid to any process that requires frequent pH monitoring for data acquisition and/or control purposes."
The UP-100 covers the full pH range of 0 to 14 and comprises two parts; a sensor unit and a controller. The sensor unit includes a pH sensor, a pump, two reference solutions (needed for auto-calibration) and a Potassium Chloride (KCl) solution for the automatic replenishment of the pH sensor's glass electrode. The controller, which connects to the sensor unit via a 5m cable as standard [with other lengths available], can be programmed via a simple user interface. The controller also displays the pH level of the most recent sample (or the electrode's voltage if preferred) and its temperature in oC.
The controller also has an RS-485 connector for data I/O and enables the UP-100 to be programmed remotely. In addition, there is an analogue output (industry standard 4 to 20mA) proportional to the most recent pH reading, allowing the UP-100 to connect directly to a PLC or alarm.
The monitor boasts a repeatability figure of +/-0.1pH when calibrating against its internal pH4 buffer and a stability of +/- 0.1pH per hour; also against its pH4 buffer.
Knight concludes: "The UP-100 is a highly capable automatic pH monitoring system. In addition to the time it saves, when compared to manually checking pH levels, it also saves money when testing a high value product, because the UP-100 requires only a small quantity of the sample to produce an accurate reading."
The UP-100 is available immediately. For further information about the UP-100 and other innovative products for use in bio reactors, food and drink processing, pharmaceutical, chemical manufacturing and the semiconductor industry please visit our product page.