High Precision, High Stability Chemical Concentration Monitor
Featured Product from HORIBA Instruments, Inc.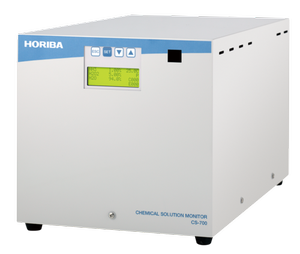 The HORIBA CS-700 chemical concentration monitor enables high performance measurement of the individual chemical constituents of complex chemistries used in the leading edge Semiconductor Manufacturing Processes.
By improving HORIBA's renowned spectroscopic measurement technology, the CS-700 realizes up to 5X improvement in measurement performance.
Provides enhanced quality control which improves the Semiconductor Manufacturing Processes.
Suitable for controlling individual constituents of commercial chemistries.
Monitoring max 8 components with real time and high performance
No reagents required and zero sample consumption for reduced CoO (Cost of Ownership)
Simple Plug and Play installation