Real Driving Emissions Solution
Featured Product from HORIBA Instruments, Inc.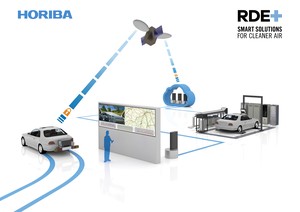 ANN ARBOR, Mich. – July 30, 2020 – With the automotive industry facing unprecedented pressures, HORIBA has launched a new virtual-based solution to Real Driving Emissions (RDE) development – which could save businesses up to $17M in prototype vehicle requirements alone.
Launched globally today, RDE+ is a 'road to rig' solution which brings the real-world into the laboratory which, when combined with virtual-domain simulation and validation, enables RDE development to be completed more quickly and accurately than before.
This major launch coincides with a new white paper1 commissioned by HORIBA, which reveals the growing business case for the virtualization of RDE powertrain development.
According to the study conducted by Frost & Sullivan, virtualizing RDE testing could help automotive Original Equipment Manufacturers (OEMs) reduce their prototype vehicle requirements up to 75% by replacing on-road testing with more efficient development in the laboratory, resulting in savings of up to $17M per vehicle program. This is in addition to huge potential savings in reduced testing and development times.
Steve Whelan, global development and application center leader at HORIBA, commented: "Undoubtedly, it's a time of huge change for the automotive industry, as manufacturers face the multiple challenges of emission reductions, electrification and future mobility, all while remaining competitive. As a business committed to supporting this process, we've developed RDE+ in order to provide a more efficient and cost-effective approach to RDE development."
"As demonstrated by our powerful research, this comes as the commercial case for virtual RDE development has never been more compelling – helping OEMs to save up to $17M in prototype reductions alone on each program. This is not to mention the cost savings to be had, potentially millions, in development time reductions," continued Whelan.
The launch comes at a pivotal time for the global automotive industry as it seeks to meet the future technology challenge while recovering from the impact of COVID-19. Adding pressure, the report estimates RDE requirements have increased testing times threefold.
Cue a growing need for a more agile approach to product development – says HORIBA.
Whelan added: "The transition to a more agile approach is inevitable in meeting future vehicle demand. Virtual validation will play a lead role in this, enabling products to be developed quicker and better – it's about doing more with less. Our recommendation is that manufacturers take heed now by virtualizing their physical testing activities. As demonstrated by RDE+, with benefits that include reduced prototype requirements, increased confidence and huge cost savings – it's a crucial step change that will ensure they stay in the fast lane."
Additional information on RDE+
Drawing on its unparalleled expertise in emissions measurement development, RDE+ sees HORIBA bring together its established hardware and software portfolio and it interfaces with industry-standard virtual tools, such as vehicle simulation and environment simulation (IPG CarMaker), to enable physical testing to be controlled by virtual modelling.
During the process, a computer model of a vehicle driving in a virtual environment is connected directly to a real engine on an automated transient testbed with environmental emulation capability. The engine is controlled by the simulation and responds as if it were being driven around the virtual test route. This way, real-world emissions are measured from virtually generated RDE scenarios; effectively bringing together the best of both the virtual and real worlds.
This approach offers multiple benefits. Typically, the 'real-world' element of the RDE process entails an infinite number of scenarios that can take months or years to develop, the results of which can be further complicated by inaccuracies in equipment, alongside testing inconsistencies such as road characteristics, weather conditions or even driving style. Add to the equation the fact that testing in the necessary conditions typically requires engineering teams to travel to different locations, and for weeks on end; and the result is an incredibly labor-intensive and costly exercise.
Virtualizing this physical process and bringing it into the lab negates such discrepancies and issues by providing an almost infinite number of scenarios on one site which can be tested 24 hours a day, supported with unparalleled control to ensure true like-for-like results every time. Working in this way, manufacturers are able to test designs quickly at every stage of the design process to ensure compliance, thereby reducing prototype program costs and the risk of non-compliance near to market launch. Moreover, by validating Tier 1 systems, fuels and lubes under real world conditions in the lab, it is expected that total product cost can be reduced along with warranty provisions and in-service compliance issues.
About HORIBA
Headquartered in Kyoto, Japan, the HORIBA Group is a global leading supplier of measurement technology and systems for various fields from automotive testing, process and environmental monitoring, in-vitro medical diagnostics, semiconductor manufacturing and metrology to scientific R&D and QC measurements.